NOTE: Hot Springs Village, Arkansas isn't a town at all. I'm using the term "town" in the most general sense possible and not in the technical, municipality, or incorporated sense. 
Dennis and I joke that Hot Springs Village Inside Out is him being inside and me being outside. That's not exactly why we titled the show as we did. "Inside Out" means there's some awesomeness inside the Village and there's some awesomeness outside, too. Truth is, there's quite a bit of awesomeness in the entire state of Arkansas. And I'm saying that as a guy who, prior to our visit to Hot Springs Village in 2018, hadn't spent that much time in the state.
I was born in Ada, Oklahoma, a place now most known for being the birthplace of Blake Shelton (an event that happened long after I had moved away). Both sets of grandparents lived there. My parents were from there. My family left shortly after I started 3rd grade. So my earliest years experienced small-town America, but after that, it was more city life than anything, except when I visited grandparents. I could never quite relate to friends who lived in the country. Even those early years in Ada weren't country living. There's rural, agricultural living, there's small-town living and there's city living. I know there are variations in all three of those. I live in DFW currently (and have for over 30 years), but DFW ain't New York City. Or Los Angeles. And living near downtown Dallas isn't the same as where I live, in the suburbs. So I know experiences are very different.
Rhonda and I spent a week in Hot Springs Village about a week ago. While there I had an epiphany. Okay, maybe that's too strong. Maybe it was just a feeling or an insight. Something I hadn't really felt before. Ever.
I looked at Rhonda on our first full day there, Monday, and said, "I get the value of living in a small town where you know lots of folks, and where they know you."
Truth. I didn't learn that until starting this podcast. How could I have known? I've lived most of my life – all of my adult life – in cities. Places like Baton Rouge, Oklahoma City, and DFW. I did grow up an avid fan of The Andy Griffith Show. When the VCR entered the scene in the mid-70s my first batch of blank VHS tapes was used to capture episodes that aired daily on TBS. I recorded every episode. No telling how many times I've seen each episode. And I know I'm in good company loving the fictional town of Mayberry, but I had some concept of it being a little boy in Ada. Christmas parades down Main Street. Main Street businesses painting their windows to cheer on the Ada High Cougars football team. JD's Café. Bob's BBQ. The Huddle. Hollering at the TV watching Bud Wilkinson's OU Sooners. I had enough of a taste during those early years to have some sense of living in a small town. But what I missed was the scope of knowing people and being known by people. That old, "Everybody knows everybody" feeling wasn't one I experienced as a little kid. But I'm beginning – mind you, just beginning – to know the feeling thanks to this podcast and all the fine folks I've met inside Hot Springs Village.
We recorded a show with Mike Nicolosi this week. It'll come out the first Friday of November. Mike isn't a shy guy, but like me, he's more comfortable being in the background of it all. An introvert who looks like an extrovert. Well, during our conversation he said Clara, his wife (and head of Re/Max of Hot Springs Village) dragged him to the Village years ago and he didn't want to come here, but within about 5 minutes he said he didn't want to leave. Why? The people. Everybody was friendly. I hear it over and over and over. People from Houston, like Mike. People from DFW, like Greg Jones. People from all over who find their way to Hot Springs Village all remark about two things: the beauty of the place and the friendliness of the people.
No wonder people who arrive here don't want to leave. And why would they?
Our super hosts (Airbnb) on this trip are repeat hosts for us. They happen to have our favorite place. It's a very nice bedroom suite in the basement of their home on a golf course. Rhonda nor I golf, but I love being on a golf course. We sit on the covered patio rocking in wicker rockers watching the golfers, the chipmunks, the squirrels, and deer. Hawks are soaring overhead, navigating the winds effortlessly. There is no hum of distant traffic. There is no glow of city lights as the sun fades. Quiet. Tranquil. Peaceful. I liken it to a big exhale!
We walk. We go to an area of the Village where another favorite Airbnb super host lives. He's the only house within a mile or more. It's a secluded part of the Village where we walk the streets and never encounter another person (or a car). Just trees. Rocks. Wildlife. Creeks. And wind rustling through the trees. As Dennis is fond of quoting me, "It's pretty stinkin' awesome!" That could easily be another tagline to our podcast…about Hot Springs Village (not our podcast). 😉
There's nothing small-town about that. Nor is it rural, which for a guy like me means there are cattle and crops. Hot Springs Village, Arkansas is very much like living in a national park. A community in the midst of national park-type beauty. Tranquil. Serene. Secure. Safe. Peaceful. Priceless.
I'm not yet a resident inside the Village, but I've made so many friends I feel like a citizen there. I'm part of the community – this community that so loves the place. People who share the same feelings I do about the place. People who describe how they feel when they drive through the gates exactly the way I describe it, "It's like a big exhale!"
Our Airbnb hosts on this trip are typical folks inside the Village. People we met a few years ago when we first rented their suite. They arrived from a nice community on the east coast. Folks attracted to get back to midwestern roots and values. People who love golf and getting to know the people who rent their space. We visit with them quite a lot when we're at their place. Sometimes neighbors, too. "Oh, I see you guys are from Texas. Where abouts?" Almost every time we're in the Village neighbors notice our Texas plates and inquire. Yes, people are friendly. We've always found that to be the case. Are people in small towns all friendly? I'm not naive enough to believe that. Come on, I've watched Virgin River. 😉
"It's not who you know that matters—it's who knows you that's important. Personal branding builds up your reputation to the point where you have a presence even in your absence."        ― Jarod Kintz, This Book is Not for Sale
I've known this feeling in smaller industry circles. When you spend years in an industry you sorta get to know people and people get to know you. But living in a place where that's the case, well, that's not something I've ever known. I know a few folks up and down the street where we've lived for over 20 years, but I don't know them all. And even the ones I know, I don't know them well. It's just how life rolls in the big city. And I'm not complaining, just observing. I suspect it's a cultural expectation that comes with living in a big city. You give people space. You expect people to give you space. The irony is the bigger the crowd the more isolated people become. Funny how that works. A crowd of strangers going about their lives with an occasional wave, but not much more.
The journey began when I sent Dennis an email he never saw coming. From a guy who had rented his guest bedroom suite on Lake DeSoto in October 2018. But a guy he hadn't heard from since. A complete stranger with what might have been a hair-brained idea to start a podcast about Hot Springs Village. After weeks of trying to make contact, we finally were able to connect on a Zoom call. Within 2 minutes Dennis said, "Yes, I'm in." It would be a telling indicator of how he rolls and why I'd love him for his speed to jump on any opportunity to put Hot Springs Village forward. It began a whirlwind of interactions as we grew to learn each other and most importantly, to trust one another. Dennis, the boy who grew up in central Arkansas. Me, the boy who grew up in cities. Dennis a fearless extrovert. Me the more reserved introvert. But along the way, we quickly discovered far more joined us than separated us. A LOT more joined us than we could have possibly imagined. And along the way, I was learning – unintentionally – the power of community. The power of small-town living. "Where everybody knows your name." Okay, maybe not everybody, but a lot of people. And where you know more names after months than you know in a town where you've lived for over 30 years. I was truly amazed.
And I rather liked it. The process of meeting all the terrific guests who have appeared on our show. These people willing to share their stories. To have heart-felt conversations about how they arrived in Hot Springs Village. Conversations about why they love the place so much. Early on, mere weeks after we launched this show, I began thinking, "So this may be what small-town looks and feels like." But how was I to know? I had no frame of reference except for my childhood.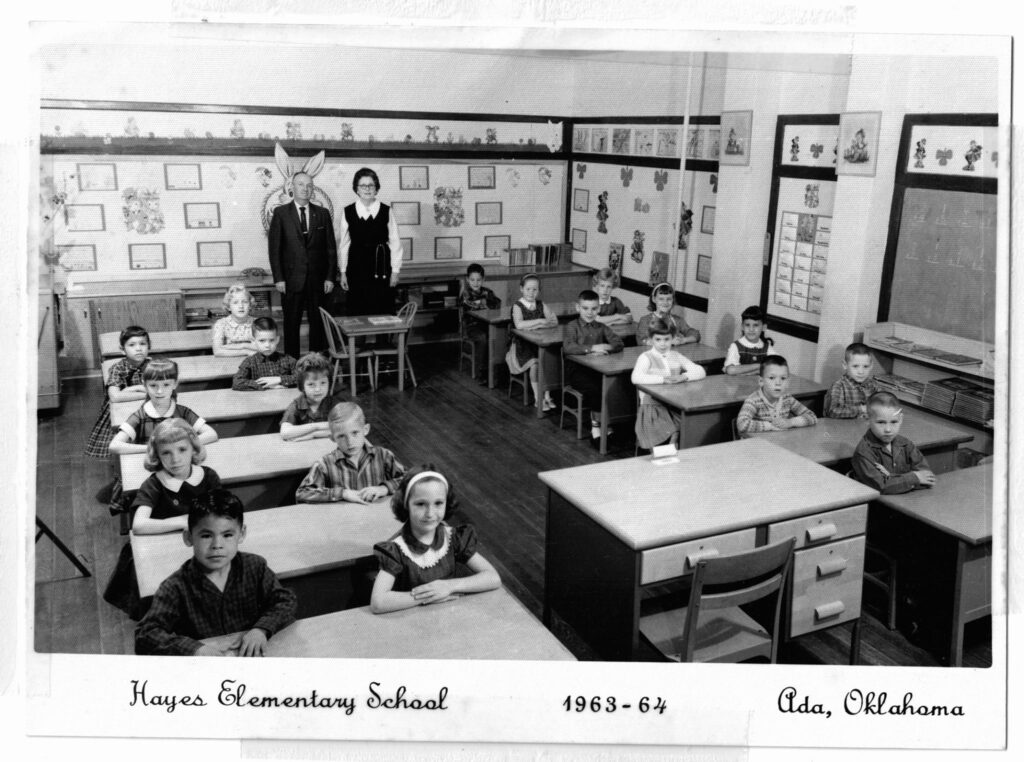 I was in Mrs. Arnold's 1st-grade classroom at Hayes Elementary School in Ada on November 22, 1963, when news arrived from the town I now live in (DFW). President Kennedy had been shot. Our President was dead. We gathered along the second-floor windows of our classroom looking outside as the flag was lowered to half-mast. Those youthful experiences stay with you. An old schoolhouse. An assassination that dropped the nation to our knees. Was that small-town or was that just life in 1963? I  have no idea. We just know what we know, right? It's our experience. It doesn't make it right or wrong. It just is what it is. But it all made me wonder about life in a small town, being in a place where you know lots of folks and where lots of folks know you.
I don't claim to fully know the power of all this because I'm just starting to taste it. And I confess I like it. Quite a lot. Knowing the story of others is rewarding. Understanding their story is powerful. In a world where it's easy to make a snap judgment without context, knowledge, or understanding – I find it remarkably satisfying to find out, to learn, and to understand. My curiosity continues to grow as I grow older.
So I click play for the umpteenth time on that John Mellencamp song, Small Town.
Those pictures John used in that music video speak to me. They don't represent my life after 3rd grade, but I can imagine. Today, thanks to the warm welcome Dennis and I have received as a result of this little show – Hot Springs Village Inside Out – I'm learning the high benefit of being part of a small town, one of the most beautiful small "towns" on the planet.
Thank you!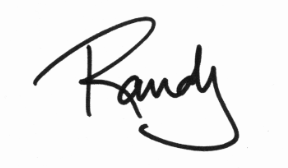 Podcast: Play in new window | Download (Duration: 22:46 — 20.8MB)
Subscribe: Apple Podcasts | Google Podcasts | Spotify | Amazon Music | Android | iHeartRadio | RSS | More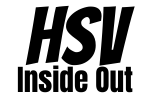 • Join Our Free Email Newsletter
• Subscribe To The Podcast Anyway You Want
• Subscribe To Our YouTube Channel (click that bell icon, too)
• Join Our Facebook Group
• Tell Your Friends About Our Show!